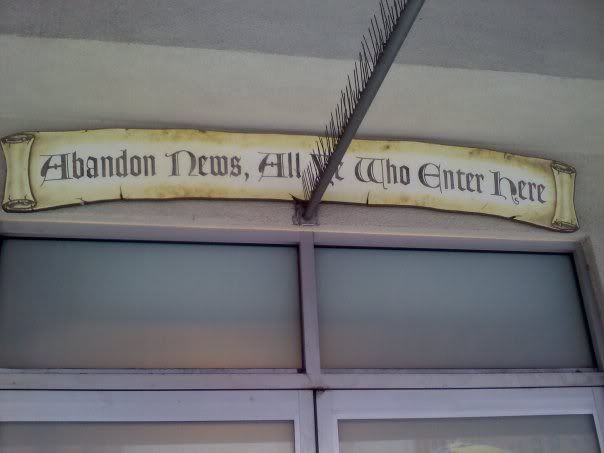 So, I booked these tickets back in November. But anyone who knows me knows how big a fan of Jon Stewart I am, and how big a fan of
"The Daily Show"
I am. He's smart, funny, witty, and calls out the bullshit that is the theater of politics, government and media every single day. Yes, he has his biases, but he doesn't let that affect how he runs his show. He called George W. Bush on his bullshit, he calls Barack Obama on his. And the media... gotta love it.
Anyway, I woke up a little late this morning. Slept like a baby. Mostly because I was up all night the prior evening. So, I quickly jumped in the shower, got dressed, and my brother and I hit the road.
We arrived in Manhattan and briefly looked for this parking lot that the e-mail notice from TDS said would validate the parking. Well, it's nearly impossible to see the address numbers, so we ended up at this parking lot across the street from the studio. They told us to get the ticket stamped and that's it.
So, since we had time, we went to McDonald's for lunch, then walked it off by walking to Times Square and back to the studio. Also, you know the economy sucks when the Times Square' Virgin Mega Store is out of business.
We got back to the studio and stood on line for a couple of hours waiting for my friends, Nick and Jill to arrive. The stand-by line was insane, let me say. Loud and insane. Robert Pattinson (that sparkling vampire) was the guest tonight, just to give you an idea of what that line was like. Although, considering that Nick and Jill were very late, if either one of them said they couldn't make it, I'd have gone over to there and auctioned off the ticket. You just know there had to be at least one person on the stand-by line who drove twelve hours for the chance to see him. I may hate
"Twilight"
but I certainly know how to exploit it.
Anyway, Nick arrived, and Jill arrived shortly before the cutoff. We went in, and security hear was even tougher than at the "Colbert Report." I had to go through the metal detector twice, because I missed a dime. They're tougher than any airport.
Jill, btw, was wearing a t-shirt that said:
"And Buffy Staked Edward."
No
"Twilight"
fans here.
We ended up with kick ass seats, directly in front of Jon's desk. The warm-up guy came out to pump up the audience, and finally, Jon himself came out. On that note, I want to say, Colbert had better music in his studio than Jon did.
Jon asked opened up with a Q&A with the audience. I actually had a question that I didn't ask. My question would have been why John McCain (who was once his most frequent guest) hasn't appeared in ages. I suspect there's been a falling out and I was curious. But I decided not to ask. If it's a bit of a sore spot, I didn't want to be that guy. I'm sure Jon would give a straight answer, but I just didn't think it was appropriate.
At one point, Jon mentioned how handsome Pattinson is and that when people see him [Jon] on the street, they ask him if he's sick.
Jon's opening bit was brilliant. He blasted Senator Bunning with golden footage of the guy being a massive dick. Then he went after New York's idiot governor, David Patterson, followed by Congressman Rangel, and then Nancy Pelosi.
Following that was a brilliant segment on Samantha Bee trying to help an unemployed man with a 13.5 inch penis a job that's not in pornography. It was Samantha's funniest segment in ages, and it was fun to watch Jon watching this thing and cracking up. BTW, the penis was unblurred when we saw the bit in the studio.
Then, Robert Pattinson came out. Eh... he didn't make much of an impression on me either way. Jon was hilarious, as always. I came for Jon. But Pattinson seems like a decent guy, even if he didn't have all that much to say. He's obviously more annoyed by the
"Twilight"
craze, but didn't want to insult his fans.
After the interview ended, we had to re-film the first two minutes because the interview ran a little bit long, so they're broadcasting a shortened version.
Then Jon told us that Pattinson is a decent guy who could easily get away with being a dick, but isn't a dick. And that Pattinson likely impregnated every girl in the audience. Well... not Jill... she was wearing a death threat. ;)
Jon walked off the set to our massive applause before coming back out and telling us we don't need to applaud anymore.
Afterward, we exited the studio and a staff member told my brother that we had the wrong parking garage, and they couldn't validated the ticket.... and remember, this is Manhattan.
So, we went to the parking lot and I started arguing with the attendant. I refused to let my brother pay $23 for parking when we were told $10 with validation. Well, I won this one... we left paying only $10. I've got great haggling skills.
We came home, and now I'm watching the episode to see if I can spot us.
It was fun.