So, Comedy Central, once again, showed just how gutless and spineless they really are. If you thought last night's bleeping of Mohammad's name was an intentional joke from Matt Stone and Trey Parker, think again.
As some of you may know, Matt and Trey started another Mohammad plotline. Some militant Muslims then started making death threats, and referenced the murder of Theo Van Gogh. Matt and Trey stuck to their guns and then... Comedy Central pussed out.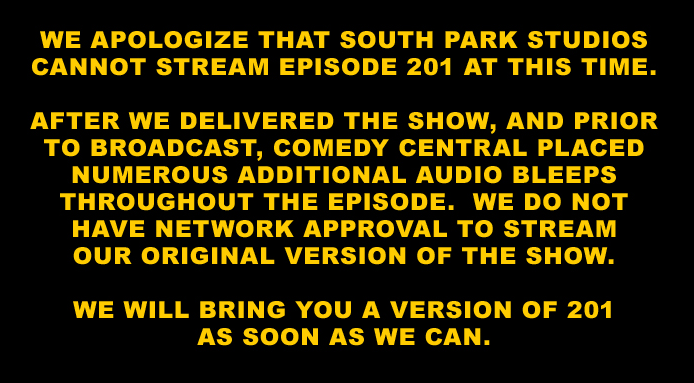 I will repeat this. Comedy Central has proven to these monsters that terrorism works. The episode is still not streaming on the official site, and Matt and Trey posted the following statement:
In the 14 years we've been doing South Park we have never done a show that we couldn't stand behind. We delivered our version of the show to Comedy Central and they made a determination to alter the episode. It wasn't some meta-joke on our part. Comedy Central added the bleeps. In fact, Kyle's customary final speech was about intimidation and fear. It didn't mention Muhammad at all but it got bleeped too. We'll be back next week with a whole new show about something completely different and we'll see what happens to it.
http://www.southparkstudios.com/news/3878
Well... I don't care what anyone says. Here's Mohammad:
Bomb me.
Fatwah me.
Jihad me.
My name is Greg Bishansky, and I'm NOT afraid of you.